Fretwell Sites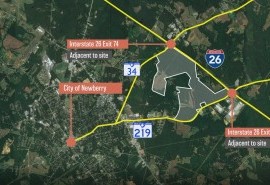 Click the image above to enlarge.
Fretwell Maps Set
SC Hwy 219 and I-26
Newberry, SC
Newberry County
Site/Park Name: Fretwell Property
This is a ~900 ac. privately owned timberland property wadged between Exits 76 and 74 along Interstate 26 in Newberry County. The property is master planned, and includes industrial, commerical and residential components. Some of the sites are adjacent to infrastructure, but others within the property would need to add water, sewer and roads.
Sale and Lease Information
Sale Price Per Acre:
Negotiable
Date Available:
1/25/2023
Physical Characteristics
Largest Single Site:
149 ac.
Available Acreage:
900.00 acres
Total Acreage:
900.00 acres
Minimum Acres:
6.40 acres
Additional Contiguous Acres:
40.00 acres
Topography Description:
Mostly gentle rolling landscape
Soil Type:
Various. See soils map.
Restrictive Covenants:
No
This is a Certified Site:
Utilities and Service
Electric Supplier:
Newberry Electric Cooperative
Natural Gas Supplier:
Clinton-Newberry Natural Gas Authority
Water Supplier:
City of Newberry
Fire Protection Supplier:
City of Newberry Fire Department
Airport Distances:
40 miles to CAE
Highway Distances:
SC 219 is adjacent; I-26 is adjacent
Railroad Distances:
2.5 hours to Ports of Charleston via I-26