Cockrell Industrial Site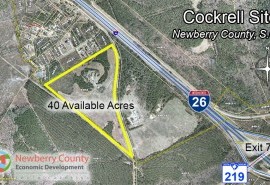 Click the image above to enlarge.
591 Cockrell Drive
Newberry, SC 29108
Newberry County
Sale and Lease Information
Sale Price Per Acre:
$12,000
Physical Characteristics
Available Acreage:
40.00 acres
Total Acreage:
40.00 acres
Sub-dividable Acres:
40.00 acres
Minimum Acres:
10.00 acres
Site Dimensions:
Not Determined
Topography Description:
Mostly Flat
Elevation Minimum:
482 ft.
Elevation Maximum:
521 ft.
Restrictive Covenants:
No
Due Diligence Performed:
Phase I Environment,Geotechnical Exploration
Utilities and Service
Electric Supplier:
Newberry Electric Cooperative
Natural Gas Supplier:
Clinton-Newberry Gas Authority
Gas Main Distance:
Available
Water Supplier:
City of Newberry
Water Main Distance to Property:
On Site
Total Water Treatment Capacity:
8.1 MGD
Average Daily Water Demand:
5.4 MGD
Wastewater Supplier:
City of Newberry
Size of Wastewater Main:
8"
Wastewater Main Distance to Property:
0.52 miles
Total Wastewater Treatment Capacity:
3.22 MGD
Average Daily Wastewater Demand:
2.5 MGD
Telecommunications Provider:
AT&T & Comcast
Telecommunications Service Description:
Fiber and Cable
Fire Protection Supplier:
Friendly
Fire Insurance Class Rating:
6/7
Airport Distances:
Columbia Metropolitan: 39.97 miles
Highway Distances:
I-26: 0.5 miles
Railroad Distances:
Norfolk Southern: 2.91 miles
Port Distances:
Port of Charleston: 146.26 miles