Trucast Expands Newberry Operation
October 31, 2017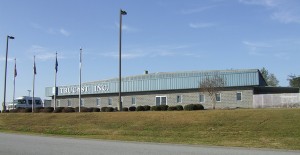 Newberry, S.C. – Trucast LLC., a manufacturer of components for automotive engines and power generation, announced today it will be expanding its Newberry operations, investing $3 million and creating 10 new jobs over the next few years.
Part of the United Kingdom-headquartered Doncasters Group, Trucast was the first industry in Newberry County Industrial Park, launching its operations in 1996. The company supplies well known auto manufacturers such as Borg Warner, Cummins and Honeywell and ships its locally-made product worldwide.
Chris Pritchard, Divisional Managing Director of the Doncasters Turbocharger Components Division, has longstanding ties to the Newberry facility, relocating to South Carolina in 1996, with his family from Derby, U.K., to project manage the new plant build and opening.
"I was on the original team that chose Newberry County more than 20 years ago, and we have never regretted that decision. This investment is a sign of the continued confidence Doncasters has in the facility we have here in Newberry and gives us the means to better serve our customers, strengthening our future in this community," Pritchard said. "Our strong relationship with the community and our committed local workforce have been key factors in the long-term success of Trucast."
Henry H. Livingston, III, chairman of Newberry County Council, said he takes a special pride in local expansions.
"The new announcements get all the attention, but when an established company like Trucast decides to expand, I take that as a vote of confidence in our community and our workforce," Livingston said. "We welcome this continued investment, and we're delighted Trucast chose us once again."
"We congratulate the team at Trucast and our partners in Newberry County on this latest success. The company's dedication to manufacturing in Newberry County is truly appreciated, and we are excited to see them continue to grow," said Mike Brenan, chairman of the Central SC Alliance.
Trucast's Pritchard said the expansion will commence immediately, with equipment being added over the next several years. Trucast will also begin hiring for the new jobs immediately at the Newberry facility.
---
About Trucast
Doncasters Trucast LLC. is based in Newberry, South Carolina, USA and is a part of the Doncasters Turbocharger Components Division. From its state-of-the-art 50,000 sq. ft. manufacturing facility, Doncasters Trucast LLC, specializes in the manufacture of hot-end turbocharger wheels for demanding applications in the automotive and power generation industries. The site has the capacity to produce over 1.5 million hot-end wheels per annum and boasts a number of industry certifications including: ISO 9001:2008 — Quality Management System, ISO 14001:2004 — Environmental System, 18001:2007 — Health & Safety System, ANSI/AIHA Z10:2005 — Health & Safety System and Level 2 FPI.
About Doncasters Group
The Doncasters Group is a leading international manufacturer of high-precision alloy components which are designed to operate in the most demanding of conditions.
With over 240 years of experience, this fast-moving group is constantly developing its broad range of products and processes to best serve the aerospace, industrial gas turbine, automotive, petrochemical, construction, industrial and transportation markets. Core areas of expertise include precision casting, forging, fabrication, machining and the production of superalloys and fasteners.
---
For further information please contact (UK office hours):
Mike Lawrence, Corporate Communications Manager, Doncasters Group
Tel: +44 1332 864900 Cell: +44 7815 923 243 Email: MLawrence@doncasters.com
More information and latest jobs can be found at www.doncasters.com