Samsung celebrates grand opening
January 14, 2018
The Newberry Observer - Andrew Wigger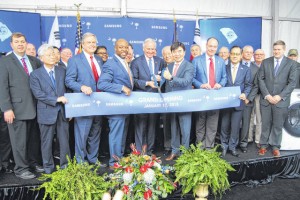 NEWBERRY — Six months ago Samsung announced a new manufacturing plant in Newberry, today Samsung is on track to produce one million washing machines in 2018 and create over 1,000 jobs by 2020. The facility, which hosted their grand opening Friday, now employs over 500 people, 90% of them from the Newberry area.
"This is a really good factory, probably one of the best factories Samsung has in the world. I'm really proud of everyone," said Hyun Suk Kim, president and head of CE Division, Samsung Electronics. "Washing machines are coming off the line, and they are ready to ship to Samsung customers all across America. This wouldn't be possible without the amazing team we have gathered here, or without the amazing partnership celebrated today."
Kim added that this grand opening was just the latest example of expanding Samsung's U.S. operations.
"This is just the beginning, we look forward to working towards a bright future together, let's make sure nothing slows us down," he said.
Kim announced new partnerships with two non-profits in Newberry, Boys Farm and the Freedom and Hope Foundation. Boys Farm provides unique foster care services for boys, serving as a haven for boys experiencing difficult family situations. The Freedom and Hope Foundation provides fishing and hunting activities as recreational therapy for active and retired wounded military service members and children with life-threatening diseases.
"We are amazed at the great work they do for our community, we are pleased to be able to work with them, today I am pleased to announce our first machines coming off the lines will go to these great organizations," Kim said.
County Administrator Wayne Adams said that the courtship between Newberry County and Samsung has been that of a whirlwind, and he expects many milestones in the future.
"I am pleased Samsung has chosen Newberry to manufacture home appliances for the United States market. I hope what we are observing today will be repeated several times into a prosperous future for both the company and Newberry County," he said. "This county as a whole is very proud to be a part of the Samsung family, this is Newberry County, this is home and we are your family."
Tim Baxter, president and CEO of Samsung North America, said what normally takes companies 18 months to do, only took Samsung six.
"We are just getting started. Samsung has been in the United States for 40 years, one of the fastest growing parts of our business is the home appliance business. America's fastest growing brand and now it is here in Newberry," he said.
In honor of the grand opening, Baxter announced that one of the inaugural washing machines will be donated to the Newberry County Museum, with autographs on it.
"I hope to come back in 20 years, when I'm golfing in Myrtle Beach and fishing in Lake Murray and I can come over and see that washing machine and see what we began here," he said.
Comments from other officials
"This is a handshake state, when someone gives you their word and shakes your hand, it's done, you do not have to write it down," said Governor Henry McMaster.
"I am excited about what will happen before 2020, 1,000 employees, nearly a 400 million dollar investment, and bringing great creativity and innovation to South Carolina. World class innovation needs a world class employee base, and more than half of the employees are coming from right here in Newberry County. A significant opportunity for Samsung to recognize world class employees," said Senator Tim Scott. "Thank you for your investment in my home state, thank you for making your inaugural washing machines home to the Boys Farm, to the Freedom and Hope Foundation. This is the way to be a part of the South Carolina Corporate family."
"To many Koreans, South Carolina is best known for its palm trees, peaches and sandy beaches. Now South Carolina will also be known as the home of cutting edge washing machines that are made in the United States," said Ambassador Yoon-Je Cho, ambassador of the Republic of South Korea to the United States.
"Manufacturing is making a come back, growing at the most robust rate in the last 13 years. Last year the United States added nearly a quarter of a million manufacturing jobs in the country, it is the highest number of manufacturing jobs since 1997," said Ian Steff, deputy assistant secretary for manufacturing U.S. Department of Commerce.