MM Technics to construct first North American plant in South Carolina
December 14, 2016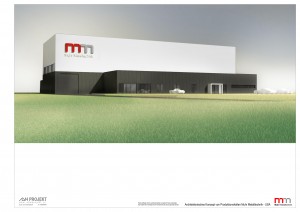 Automotive supplier investing $12.6 million in Newberry County
MM Technics, a newly formed American subsidiary of Muhr Metalltechnik, Gmbh + Co. KG, is constructing a metal stamping facility in Newberry County. The company is expected to invest at least $12.6 million and create 65 jobs over the next five years.

Headquartered in the state of North Rhine-Westphalia, Germany, Muhr Metalltechnik employs more than 200 associates at its flagship facility in Wenden and a second facility constructed in Poland in 2012. The company uses state-of-the-art mechanical feed presses, deep drawing hydraulic presses and fully-automated cutting and welding equipment to supply more than 15 automotive companies throughout Europe.

MM Technics will begin construction of a new 40,000-square foot Newberry County facility in January and expects the new operation to be online by November of 2017. The facility will begin with a new 800-ton mechanical feed press, which it will use to stamp metal structural parts as a Tier 1 BMW supplier.

Those interested in joining the MM Technics team should contact Newberry County Economic Development by email at info@newberrycountysc.org.

The Coordinating Council for Economic Development has approved job development credits related to this project.

QUOTES

"We are delighted to be expanding to the United States and to Newberry County. Our site selection process was long and difficult, but in the end we found that Newberry County had the right site and the right community for us. We thank the county and its leadership for guiding us through the process and solving every problem that presented itself along the way. We look forward to a very long and prosperous relationship with the county, the state and our customers." –MM Technics President Meinolf Muhr

"Foreign investment continues to be a major driver of South Carolina's economy, and we are thrilled that MM Technics is the latest international company to invest in our state. This investment shows MM Technics' commitment to the people of South Carolina, and we look forward to seeing the positive impact this commitment will have in Newberry County and throughout the state." –Gov. Nikki Haley

"With today's announcement, MM Technics joins a roster of globally-renowned companies that have concluded that South Carolina is 'Just right' for business. I congratulate MM Technics and look forward to supporting them as their Newberry County operations come to fruition." –Secretary of Commerce Bobby Hitt

"We couldn't be more pleased that our community has been chosen by MM Technics for its first plant outside of Europe. From top to bottom, our team worked incredibly hard to bring this win home. These are the kinds of quality and sustainable manufacturing jobs we want in Newberry County and we couldn't be happier to get our first tenant in Mid-Carolina Commerce Park. On behalf of Council, we pledge to continue working hard for Meinolf and his company and do everything we can to help him be successful in our community." –Newberry County Council Chairman Henry H. Livingston III

"Today's announcement in Newberry County is evidence that both the public and private sector stakeholders in our state and region continue to advocate for positive economic growth. We welcome MM Technics to the Central SC region, and look forward to being a catalyst in helping them succeed." –Central SC Alliance Chairman Mike Brenan

FIVE FAST FACTS
MM Technics is constructing a new manufacturing plant in Newberry County.
$12.6 million investment to create 65 jobs over the next five years.
This facility will be Muhr Metalltechnik's first North American manufacturing facility, and the Newberry County plant will supply stamped metal parts to BMW's Upstate assembly plant.
The company expects construction to begin in January, and the plant is expected to come online by the end of 2017.
Those interested in joining the MM Technics team should contact Newberry County Economic Development by email at info@newberrycountysc.org.
About MM Technics
Based in Wenden in the state of North Rhine-Westphalia, Germany, Muhr Metalltechnik GmbH & Co. KG is a growing automotive supplier with more than 30 customers throughout Europe. Started as a radiator manufacturer more than 50 years ago, the company offers its customers fully integrated and optimized solutions from component design to large batch production. Over the years it has developed a reputation for flexibility and reliability, and houses a wealth of experience in its core expertise of metalworking and welding.