Falcon Boats establishing Newberry County operations
March 24, 2016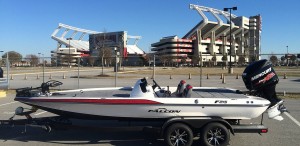 Falcon Boats is establishing operations in Newberry County to manufacture a new line of sportfishing boats. The company purchased an existing building, located at 750 Wilson Road in Newberry, S.C., and plans to invest $1.5 million, creating 35 new jobs over the next five years.

Initially established as Marine Pro in Irmo, S.C., the company previously specialized in boat repair and modification. However, following the vision of company president Stephen Waller and his two partners, Falcon Boats aims to make a significant impact on the bass fishing market. With more than 90 years of fishing experience, Falcon Boats' leadership has the user experience in mind when manufacturing high-quality, affordable fishing boats.
As avid fishermen with a combined 90 years of boat manufacturing experience, the leadership at Falcon Boats are in tune with what the modern fisherman, both competitive and hobbyist, want in a fishing boat.
The company has already begun manufacturing its first model, the F-215, a fast and stable design that handles rough water with ease. The 21-foot boat features an extra wide beam for added stability and a larger casting deck.
For more information on the company, visit www.falconbassboats.com.
---

QUOTES
"It's an awesome feeling to be building boats in Newberry again. We're starting out small, and plan to grow as business allows, but we have high hopes of producing quality and affordable boats for many years to come." -Falcon Boats President Stephen Waller
"Falcon Boats' decision to expand to Newberry County is a testament to the reputation South Carolina's world-class workforce has built as one of the best in the world. This $1.5 million investment, creating 35 new jobs, is a huge win for Newberry and our entire state's manufacturing industry." -Gov. Nikki Haley
"It's always exciting to celebrate a homegrown company, like Falcon Boats, as they open a new facility in our state. I look forward to watching this impressive company grow and thrive in South Carolina for many years to come." -Secretary of Commerce Bobby Hitt
"It's great to see that the boat manufacturing industry is alive and well in Newberry County. Since we have a long history of boat building in our community, we have the right people with the right skills to make Falcon Boats successful. We wish them well and we'll do whatever we can to help the company and its people prosper." -Newberry County Council Chairman Henry Livingston, III
"We eagerly welcome another boat manufacturer to the Central S.C. Region. The announced capital investment and new jobs is a win for our community, stakeholders and citizens. We congratulate them on their success and look forward to watching them thrive." -Central S.C. Alliance Chairman Mike Brenan
FIVE FAST FACTS
Falcon Boats is establishing operations in Newberry County.
$1.5 million investment to create 35 new jobs.
The company was initially established as Marine Pro in Irmo, S.C.
Falcon Boats' Newberry County facility is located at 750 Wilson Road in Newberry, S.C.
The company has already begun manufacturing its first model, the F-215.
---
About Falcon Boats
Falcon Boats was created with the goal to provide a high quality, high performing, tournament worthy boat at an affordable price. The three Falcon founders have over 90 years of combined boat manufacturing experience. This experience, along with a passion for fishing, provides a wealth of knowledge on what goes into making the best fishing boat. Learn more at www.falconbassboats.com.
About S.C. Department of Commerce
As South Carolina's leading economic development agency, the Department of Commerce works to recruit new businesses and help existing business grow. Commerce has recruited world-class companies to South Carolina such as BMW, Boeing, Continental, Giti Tire, LPL Financial Holdings, Mercedes-Benz Vans, Toray and Volvo Cars and also supports startups, small and existing business, innovation and rural development initiatives. Commerce partners with the S.C. Technical College System via readySC to support workforce training and recruiting, and with the S.C. Department of Employment and Workforce, which provides worker training and employment opportunities within the state. IBM-Plant Location International reports in 2012, 2013 and 2015 ranked South Carolina first in the nation for attracting jobs through foreign investment. The state won the Gold Shovel Award and the Project of Year Award from Area Development magazine in 2012, 2014 and 2015. For more information, visit www.SCcommerce.com.